Shivee West
Shivee West is adjacent to the Entrée/Oyu Tolgoi JV Property and the Oyu Tolgoi mining licence. The area covered by Shivee West totals 23,114 hectares and is 100% owned by Entrée, subject to a first right of refusal by OTLLC.
Since 2015 Shivee West has been the subject of a License Fee Agreement between Entrée and OTLLC and may ultimately be included in the Entrée/Oyu Tolgoi JV Property.
Past exploration activities have principally been for epithermal-style gold mineralization and porphyry-style copper-gold mineralization at Shivee West. Exploration activities have included: geophysical surveys (IP, gravity, magnetic), core drilling (38,244 metres in 65 holes), reverse circulation ("RC") drilling (4,145 metres in 34 holes), trenching, geological mapping and geochemical sampling. Significant mineralized targets identified to date are Argo and Zone III.
In 2011, reverse circulation drilling was conducted over the Zone III near-surface epithermal gold target and expanded north, where a new gold zone (Argo Zone) was discovered 250 metres beyond the previously known area of gold mineralization. The Argo Zone was partly defined by six RC holes (holes EGRC-11-110 to 115), two trenches and surface chip sampling. Hole EGRC-11-112 returned 14 metres of 1.82 grams per tonne ("g/t") gold and hole EGRC-11-111 returned 3 metres of 2.21 g/t gold. Two separate high-grade surface chip samples averaged 42.4 g/t gold over 4 metres and 19.3 g/t gold over 3 metres. Shallow gold mineralization in both zones is hosted by quartz veined felsic volcanic rocks.
The 2012 work program focussed on geological mapping, excavator trenching and sampling in the Argo/Zone III area. The area of Argo gold mineralization was extended 140 metres further north from mineralization defined by 2011 RC drilling. The Argo Zone now measures approximately 400 metres long by up to 130 metres wide. One of the trench samples returned 81.4 g/t gold over 3 metres, confirming and expanding 2011 high-grade gold values.
Deep geophysical (induced polarization) targets have been identified on the Shivee Tolgoi Trend and four were drilled during the 2010 exploration program. The stratigraphy encountered in some of the holes is interpreted to be equivalent to the ore-hosting Devonian-age units at OT. The potential for deep OT copper-gold porphyry-style mineralization was re-evaluated in 2011 with detailed geological studies and geophysical surveying. A 1,670 line-kilometre magnetic survey was completed over a belt of rocks which show similarities with the units which host the nearby OT deposits.
Khoyor Mod, located 6 kilometres south of the Argo Zone, comprises a 250 metre by 300 metre area of porphyry-style quartz stockwork within Devonian sediments. 2012 trench sampling identified anomalous gold (trace to 0.58 g/t) and copper (67 – 505 ppm) indicative of a porphyry target.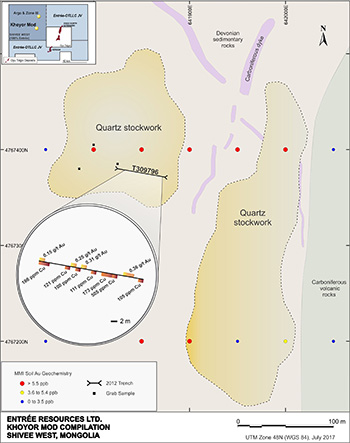 Last updated: July 2017